Tomorrow is International Overdose Awareness Day, a day for people and communities to come together to raise awareness about one of the world's most urgent public health crises. In Canada, there's been a total of 29,052 overdose related deaths since 2016. At the start of the COVID-19 pandemic, overdose deaths rose by 96%, to almost one death every day in 2021.  Although this crisis is becoming increasingly urgent, the lives and needs of people who use drugs are consistently pushed to the side. The overwhelming rates of loss we've seen over the past couple of years are proof that we are failing members of our communities who use drugs. Meanwhile, the grief of those who have lost loved ones to this crisis is rarely acknowledged due to stigmatization and shame.
In recognition of Overdose Awareness Day, our Grief, Loss, and Wellness Initiative will be supporting two events in Toronto. You can find our team handing out zines and grief kit materials at Parkdale Queen West Community Health Centre, as well as at IOAD on George Street, outside of Seaton House.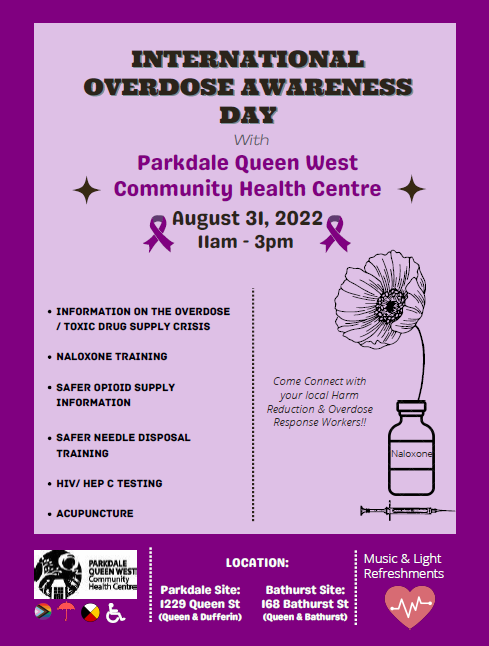 The event at PQWCHC will run from 11:00-3:00, and will be held at both 1229 Queen Street and 168 Bathurst Street. The event will include information about the overdose crisis, naloxone training, safe supply information, safe needle disposal training, HIV and HEP C Testing, acupuncture, as well as music and light refreshments.
IOAD on George Street is a collective event hosted by over 20 Toronto-based organizations and programs including homeless shelters, community health centres, harm reduction programs, overdose prevention services, HIV/AIDS serving organizations, crisis response programs and individuals committed to this work
The day will include food, music, harm reduction and health care resources, nutrition resources and naloxone use training, and hold space to remember and honour our loved ones who have died or been injured because of an overdose. Please join us in front of Seaton House (339 George St.) from 11:30 a.m. to 3:00 p.m. for IOAD on George Street – as we gather to grieve and celebrate the thousands of beautiful lives that have been ended too soon by preventable drug overdoses. (More information on this event can be found here)
We hope to see you at one of these events, to honor those we have lost to the drug poisoning crisis.